Located in the place 200 Meters away from the South Entrance to Wuyi Mountain Scenic Spot, EcoGano Health Hotel covers an area of 13.2 acres with a green coverage of above 80%. With Lion Peak in its north as well as Jade Lady Peak and King Peak in its west, this hotel has exceptional advantages in geological location. And negative oxygen ions in the fresh air reach as high as more than 90,000/m3. Surrounded by mountains, singing birds and fragrant flowers can be seen everywhere. The pleasant natural beauty intoxicates tourists and makes them feel in a wonderland, it is the best choice for recreation and health.
There are 8 buildings combined with Chinese and Western styles enhancing each other's beauty, and totally 128 spacious and well-equipped rooms in the hotel, which includes buffet restaurant, Chinese restaurant, bar, shopping mall, multi-purpose hall, table tennis room, chess room, KTV, conference rooms and other service places, also single-family high-end private health villas are available. So the hotel can meet requirement of meetings, business, leisure and health from tourists.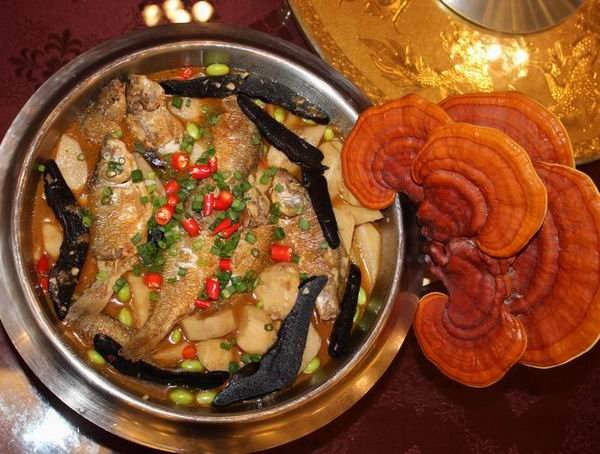 Ganoderma Health Meal is a special diet developed by the hotel for health enthusiasts. All the foods are picked fresh the very day from Wuyi Reishi Cultivation Base. The most popular dishes are cooked according to special recipes with Ganoderma Chicken, Ganoderma Duck and Ganoderma cyprinoid. The fresh, healthy and nutritious foods are turned into delicacy by superb cooking of world-class cooks.
It is worth mentioning that special customized services are also available for tourists in this hotel. Special dishes are designed for individuals with different constitutions. That is to say, while feast your stomach with the most attractive gourmet foods, you can enjoy the most accurate health services.